Betsy Giffen Nowrasteh's Biography
Betsy Giffen Nowrasteh was born and raised in Northeastern Ohio and earned her B.A. in Creative Writing from Miami University. When she was twenty two she moved to Los Angeles where she worked as a production artist and copywriter for movie advertising.
After marrying Cyrus and having two sons, Alex and Mark, she began screenwriting. Her first produced screenplay, UNDER PRESSURE, is a dark suburban drama about a mother protecting her children that stars Charlie Sheen and Mare Winningham. It aired on HBO in 1997. Following that she forayed into production design on NORMA JEAN, JACK & ME, an indie film that played festivals and on HDTV in 1999-2000.
Betsy and Cyrus have co-written a number of screenplays including NIGHTWALKER, based on the novel by Thomas Tessier, and BAD CLIENT, an adaptation of Richard Dooling's satirical novel, BRAINSTORM.
With Cyrus as co-writer and director, Betsy pursued the rights to the non-fiction book THE STONING OF SORAYA M. by Freidoune Sahebjam. Believing it to be a powerful and dramatic account of a barbaric practice, Betsy and Cyrus wrote the script together and brought it to the screen in 2009 with producers Steve McEveety and John Shepherd of MPower Pictures.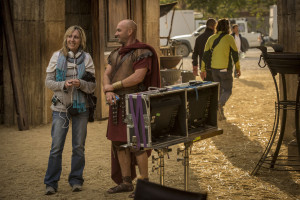 Betsy and Cyrus recently completed an adaptation of Anne Rice's novel CHRIST THE LORD — OUT OF EGYPT for producers Chris Columbus and Michael Barnathan of 1492 and CJ Entertainment. The film will be released as THE YOUNG MESSIAH in 2016.