THE DAY REAGAN WAS SHOT is the much-acclaimed riveting true story, written and directed by Cyrus Nowrasteh and executive produced by Academy-Award winner Oliver Stone.
On March 30, 1981, at the height of the Cold War and in office only seventy days, President Ronald Reagan and three members of his entourage were gunned down by an insane and obsessive young man named John Hinckley Jr. outside the Washington Hilton Hotel. With Vice-President George Bush on a plane and Reagan's condition critical, egos clashed, tensions mounted, and chaos ensued. In an executive crisis that threatened not only the life of the president, but the survival of the nation as well.
Academy-Award winner Richard Dreyfuss stars as Secretary of State Alexander Haig, the man who stood at the center of this never-before-dramatized political meltdown which brought us to the brink of war and challenged the integrity and authority of both our leaders and the constitution itself. Inspired by actual events, THE DAY REAGAN WAS SHOT is a terrifying and hilarious vision of politics at its best, worst, and most dynamic.
"If people knew what really happened that day it would make their hair stand on end." — Alexander Haig
Cyrus Nowrasteh received the 2002 PEN USA WEST Literary Award for Best Teleplay. It was presented to him by Oliver Stone, a mentor to Nowrasteh, who proudly spoke of this Showtime film as "a little gem."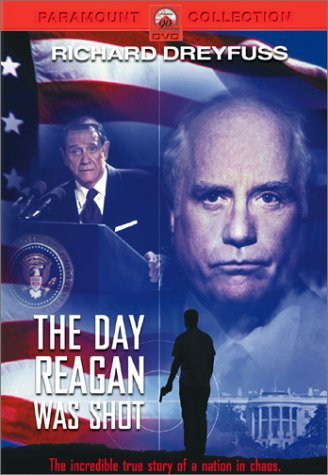 Related links: